This is a Sponsored post written by me on behalf of Fellowes, Inc. . All opinions are 100% mine.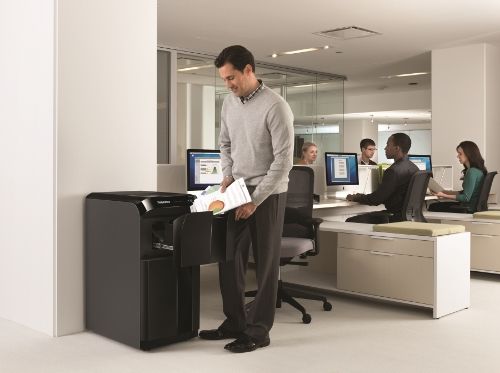 Fellowes invented the personal paper shredder back in 1990, and have been innovating with new models and new features ever since. We even reviewed one of their devices two years ago. Now the company has announced their latest innovation: the Fellowes AutoMax series of shredders, like the 500C and the 300C. These are truly hands-free, auto-feed shredders that pretty much do all the work for you. You simply have to drop your pile of papers, DVDs, CDs, paper clips, and other shreddables into the drawer and walk away. A patented system of rotating paddles (SureFeed Technology) ensures that everything gets fed into the cross-cutting mechanism and gets turned into unrecognizable bits. No more standing around the machine, wasting company time and money.
The 500C has a 20 gallon bin, while the 300C can handle up to 16 gallons, which is large enough to ensure you don't have to keep coming back to refill it every two seconds. Also, a feature called JamGuard System prevents paper jams, which is an essential ability for a device that claims to be completely hands-free; after all what's the point of being able to walk away, if you keep having to come back?
There's even a feature called SmartLock that prevents anyone else from opening the drawer until that batch is completely shredded. This is to stop someone else from accessing your private documents after you've inserted them in (and walked away). Couple all these features with other innovations like SafeSense, which immediately halts shredding if your hand or fingers touch the paper opening, and you've got yourself some groundbreaking machines in the personal shredding space. To find out more about these devices, follow the link below.